Orion's Belt

Summary:
Orion's Belt is set in a space environment where the players have to expand their empire by conquering new planets, form alliances to battle for space domination, use massive weapons and fight each other in a chess like board using units with unique special abilities.
On your Planets you will be able to build Facilities and Combat Units. Later on you will be able to join those Combat Units on a Fleet and Travel on Universe, making friends and enemies as you play along.
When you engage war, you will have your battles played on a Game Board. That's the most fun part of the game!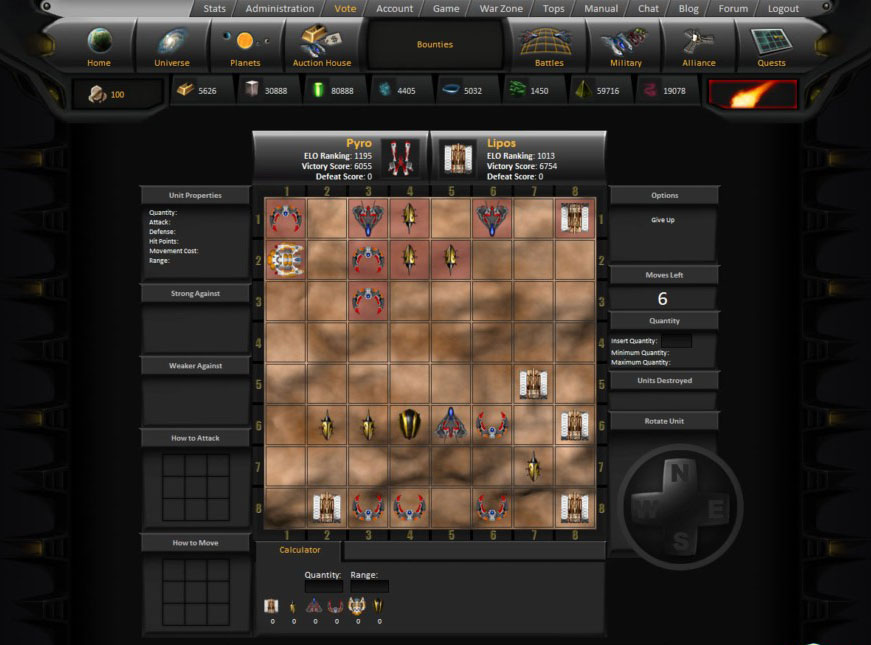 Features:
New conceptes:
Orion's Belt brings to online space strategy games (browser based) three new concepts:
A large universe where players can control all the movements of their fleets. These fleets have line of sight and all the universe is covered by fog of war.
The battles between two players are not made automatically. Rather, they're made in a chess-like board using unique units, each one with their own quantities, abilities, strengths and weaknesses.
Besides the Multiplayer game, there are also a series of tournaments using the innovative battle system.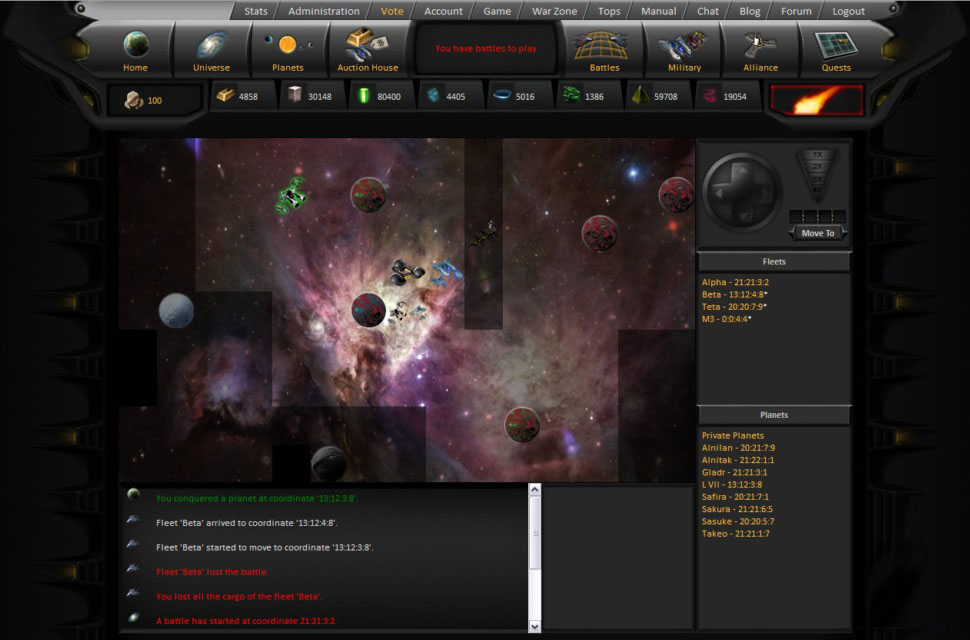 Game Features
Game features also include:
3 completely distinct races.
Private zone were each player can evolve 5 planets and never be attacked.
Public Zone with hundreds of planets of different levels that can be conquered.
More than 30 units (10 per race) with unique powers and abilities.
Wormholes that allow the player to travel faster in the Universe.
Markets spread trough the universe
Auction House were players can buy all sorts of resources for the higher bid.
Besides the Tournaments there are also a Ladder competition using the innovative Battle System.
Professions based on the actions of the players: Pirate, Bounty Hunter or Merchant.
Quest system that allows the players to be guided trough the game and win a lot of resources to help them evolve.
Artificial Intelligence that allows the players to make friendly battles against the computer.
Campaigns. It's a side game where the player has to make several battles against the computer. The players that use less moves to defeat the computer will appear in the top of the hall of fame.
Relevant Games