Luna Online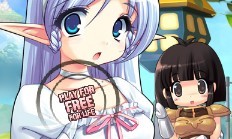 Luna Online is a free to play Fantasy MMO Online Role-Playing game, developed by EYA Interactive and published by gPotato, which was released in May of 2009. Luna Online is a fast paced, free anime-styled casual mmo game focused on social network and user community. In luna Online, you could customize your character and embark on a journey to the magical floating isles of the Blue Land, Join the armies of humans, elves, and dwarves as they band together to harness the power of the Goddess Luna and turn back the tide of evil demons threatening to destroy their world forever!
Luna Online has 40 dynamic job classes, allowing to make new friends and allies to become Luna Online's super hero! Featuring hundreds of quests, a robust farming system, and innovative matchmaking, instances, Luna Online could also give you a chance to find your true love!
Luna Online is a game that tries to focus on character development rather than the story or development of game characters through quest. This is something that some people might like while many who are not use to it might dislike it. The skill system is something that is rare, but it lacks a more free mix and match system that might be preferred over this semi-free system. Grinding can get a bit heavy later on but its very light in the beginning. For those who want to get deeply involved in the game, they can while those who don't want to can stay away from those features and still enjoy the game.