Wanted

Universal Studios
46,423
Final
Buy Ingame Advantages
Realtime

Summary:
Wanted is a browser-based, free-to-play, MMOG which steeped in the mythology of the film with the same name. The film Wanted tells the story of an office drone recruited into a fraternity of assassinsa ruthless secret society charged with carrying out the will of destiny.
Features:
As they progress through the game, players will build their character from an assassin in training to a powerful Fraternity leader. They will use strategy to carry out exciting missions delivered by the Loom of Fate, and utilize micro-transactions to upgrade weapons and ammunition, gain healing abilities, and fortify their fraternity. Social networking aspects of the game allow players to recruit others into their fraternity, assign "hits" on competing players, and team up to take out unsuspecting rival targets. The best players each season will receive cash prizes.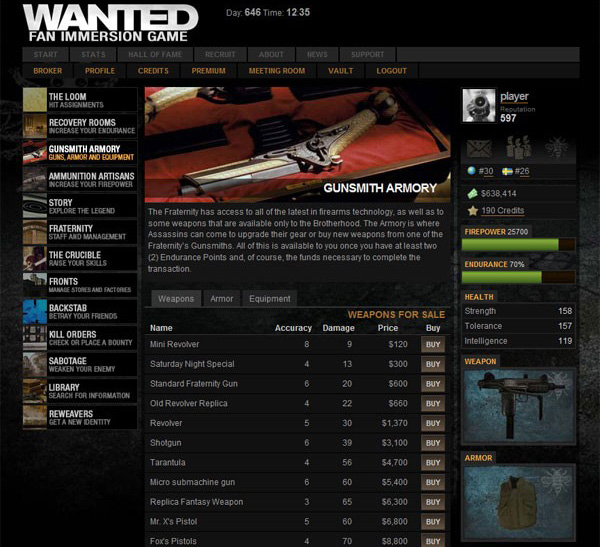 Loom
The Loom is the spiritual center of the Fraternity of Assassins. Its workings are a closely guarded secret known to only a select few within the Brotherhood. However, members are expected to follow the dictates of the Loom without question. Fate determines when a Kill Order is weaved. Fate also determines whose name is on that Order. It is then the duty of Fraternity Assassins to execute that Order without question or mercy. Take one life, and perhaps you save a thousand.
Gunsmith Armory
The Fraternity has access to all of the latest in firearms technology, as well as to some weapons that are available only to the Brotherhood. The Armory is where Assassins can come to upgrade their gear or buy new weapons from one of the Fraternity's Gunsmiths. All of this is available to you once you have at least two Endurance Points and, of course, the funds necessary to complete the transaction.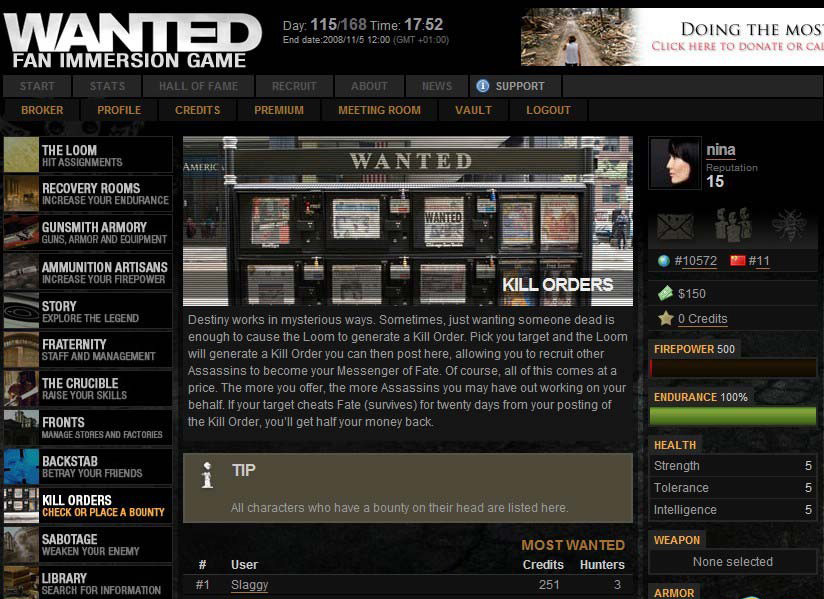 The Crucible
Before an Assassin can become a truly effective and efficient messenger of Fate, he must train himself both physically and mentally. The Fraternity offers facilities, collectively known as the Crucible, for this training. The Crucible breaks down into three distinct parts: Strength, Tolerance and Intelligence. You can pay to gain more attitudes here.
Fronts
The Fraternity operates a number of legitimate business operations, known collectively as Fronts, to support its mission and misdirect any unwanted attention away from its activities. You've been offered an opportunity to purchase two such businesses, both Ammuntion Fronts that you can use to bring in funds and add to your personal wealth.
Kill Orders
Destiny works in mysterious ways. Sometimes, just wanting someone dead is enough to cause the Loom to generate a Kill Order. Pick you target and the Loom will generate a Kill Order you can then post here, allowing you to recruit other Assassins to become your Messenger of Fate. Of course, all of this comes at a price. The more you offer, the more Assassins you may have out working on your behalf. If your target cheats Fate (survives) for twenty days from your posting of the Kill Order, you'll get half your money back.
Relevant Games