Online Football Manager

fanleague.net
53,324
final
free
Realtime

Summary:
Football League is a game, in which participants manage their own football teams while competing against each other. Before you start playing you should read the "General Conditions".
Features:
The football league has a pyramidal structure, containing groups and divisions. On the top of the pyramid there is 1 group, consisting of 8 teams which form the Division I. Under Division I, there is the Division II, consisting of 2 groups with 8 teams each, Division III consisting of 4 groups with 8 teams each and so on…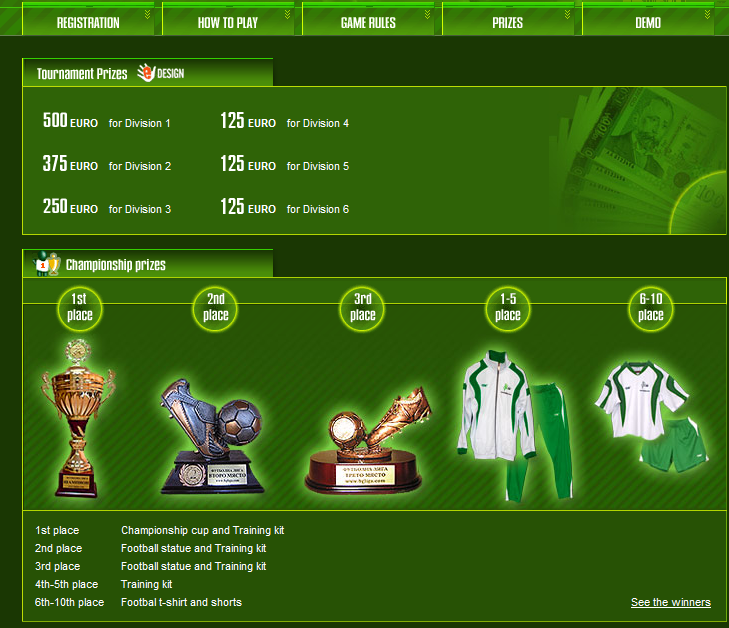 After registration your team is placed in a random group and division with free places.
In the course of one season every team plays seven matches - one against every opponent in the group, whereby the home team is appointed in advance by a lot. The season starts on Monday and ends on Sunday with completion of the last match in the group. The team plays one match on each day of the week. The starting time of the matches is appointed in advance and is the same for the entire group.
The ranking in the group is determined on the points winned by the team, given the fact that every win is worth 3 points, every draw - 1 point, and defeates gain you no points. When there is parity in points the criteria for positioning the teams in the group are as follows: goal difference, less red cards received, less yellow cards received and finally a lot .
After the end of each season the first team in every group advances to an upper division, and the seventh and the eighth teams relegate to a lower division. This is reflected respectively in the group standings. In the end of the season a goalscorer of the group is announced - the player, who has scored the greatest number of goals in the season. If two or more players have scored an equal number of goals, a leading position is given to the player who was the first to score his last goal.
Relevant Games