NinjaTrick

Summary:
 NinjaTrick is a browser based action game where players can select various kinds of Ninjutsu  and challenge each other, controlling their own Ninja character with a mouse. The simple rules and fast paced game development enable players to battle strategically against others without needing experience in mass multiplayer online games.
Features:
Anyone can easily play this game just by accessing the website. Unlike the conventional games and virtual worlds which require downloading 3D software, Adobe Flash Player allows NinjaTrick to run on web browsers.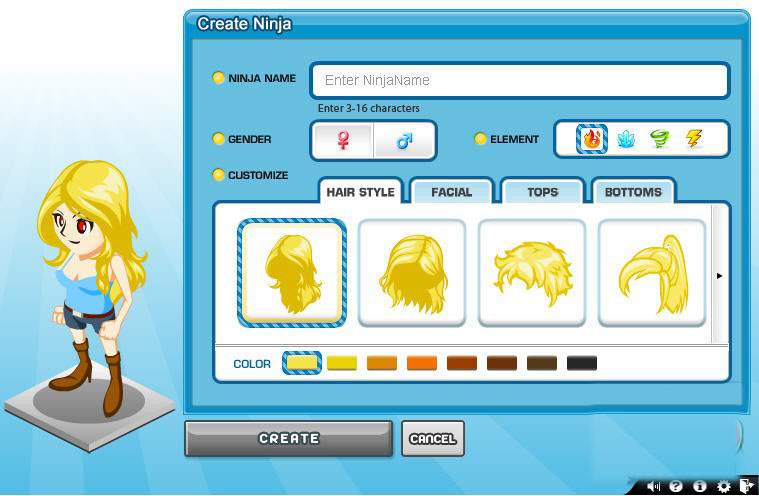 The biggest attraction of this game is that players can create their own Ninja. Ninjas will show different characters depending on the Ninjutsu they select. Furthermore, using the virtual currency, Ninja Gold, enables players to purchase special accessories and customize their Ninja freely, which is not only a great opportunity for players to enjoy the game, but also the chance to interact with other players .
Simple, profound game modes
This game is a battle game playable with up to eight players. In addition, players will need to find GEMs hidden around the playing field within the time limit. The rules are simple, but utilizing the various Ninjutsu allows players to experience diversified, thrilling battles with other players.
Combination of Ninjutsu expands strategy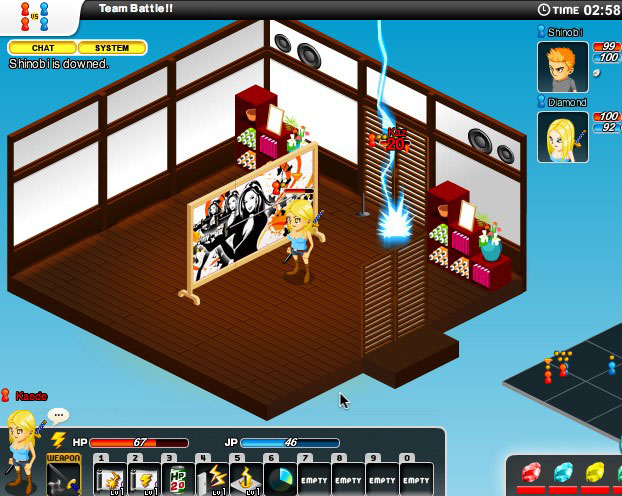 Dozens of Ninjutsu, differing in characteristics and effects are available. In accordance with opponent's strategy, players can change Ninjutsu and arrange effective combinations to enjoy strategic matches. The game options also allow players to select from a single match to a maximum four-to-four team battle, and diverse stages are added sequentially, offering players a wide variety of game play.
Virtual world – "Ninja City"
The virtual world, Ninja City, features the following functions: players can chat with other players, make friends, form guilds for battle preparations, etc. By using the virtual currency, Ninja Gold, players can also exchange digital goods such as special Ninjutsu , costumes, and equipments to deck out their Ninja.
Relevant Games