CampPete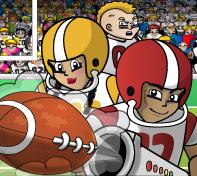 CampPete.com is an online virtual world for kids. Kids create an avatar and can use their mouse to "walk" around a football themed world online. Inside the world, children can safely chat with other kids their age who love football. Coach Pete Carroll guides them through the world while teaching them sportsmanship, leadership, healthy habits and basic football skills.
CampPete.com was created for kids who love football. And it's not just for boys! Many girls also enjoy CampPete:)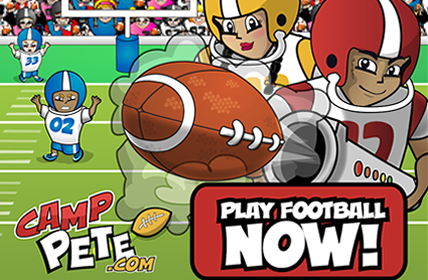 Features:
>Create your own football player then explore!
>Learn basic football skills and exercise tips from Coach Carroll and his team.
>Coach Carroll teaches kids healthy habits and leadership skills through fun videos.
>Earn Touchdown Tokens for reading your favorite books! Visit your local library to check out a book today! Brought to you in partnership with the Los Angeles Public Library.
>Choose from two state-of-the-art chat filtering systems. Learn More!
>Earn tokens playing games and watching videos then Become an MVP to trade them in for cool gear and great prizes! Contest Rules
>Learn basic football skills, sportsmanship, teamwork, leadership, healthy habits, plus play great games!
>We filter chats and monitor activity to help parents in their effort to keep children safe online.
MVP Members score points to win prizes including a chance to meet Coach Carroll in person!