Planetarium Football Star
Planetarium Games
16,032
Final
Optional premium accounts
Realtime
Summary:
FootStar (Planetarium Football Star) is a game where you are in control of a football player, trying to become the best player the planet has ever seen. You will be able to decide what club to join, set up training schemes, interact with your team mates, give interviews, adquire goods to increase your lifestlye and morale, amongst several other options, in order to become the best football player the world has ever seen!
Features
Human-Controlled Team
Basically when you are looking for a team, you have two options: selecting a human-controlled team or a server-controlled team (also known as "bot team"). There are some really big differences between them.
Training
Training is a really important part of FootStar. The first thing you should know is that you should set your individual training scheme as fast as you can. You can't afford to forget to set your training or you'll be losing precious time and skills. Besides the 18 player skills, you can also train Fitness, Having Fun, Left Side, Right Side and Middle (Side).
Players' Relationships
As in real life, a player's relationships are a vital part of any football team, mainly those between teammates. In Footstar the developer has made a model that pretends to simulate these so important relationships. This aspect of the game is divided in two different parts: the direct interactions and the press interactions (or indirect interactions, as you wish). Inside the direct interactions we have interactions between teammates, players living in the same city, players living in the same country (but different cities) and players living in different countries (and of course different cities).
Girlfriends
In Footstar players have the possibility to go out, meet Girls and develop relationships with them. Based on the way the relationship develops, a girl can later become a girlfriend or even marry the player.
The Match
The FootStar match engine is a real simulation of a football match. Eleven players (a team) start at each side of the field and try to put the ball in the opposite team's goal. Simple as that. The match is the culmination of each gaming aspects. You should focus your player strategy to play as much as you can and as better as you can, using a long-term strategy or a short-term strategy.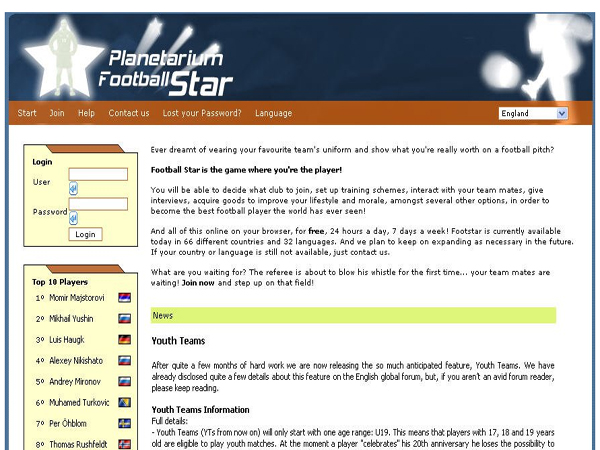 Relevant Games