F1 Tipping

Summary:
F1 Tipping is a FREE online Formula One prediction competition. Players predict the outcome of each Grand Prix as we follow the Grand Prix season to each race on the calendar.
The F1 Tipping game was developed to help make the F1 season more interesting for fans to follow, with the intention that a group of people would compete together in a personalised league and share their thoughts in the message boards. However, it can also be played solo where you compete individually against the rest of the world!
We also aim to provide F1 fans with more, including F1 news headlines from your favourite sources and messaging system with other F1 Tipping players.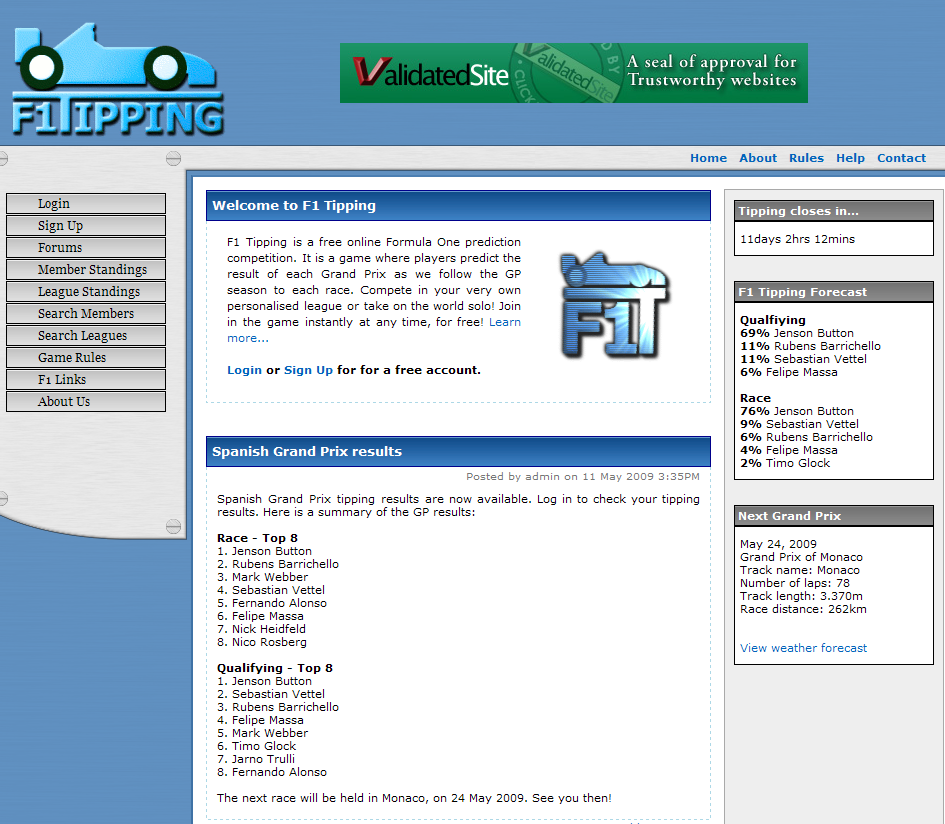 Features:
For each race on the Formula 1 calendar, you predict the 1st, 2nd and 3rd qualifiers and race finishers. Maximum points are scored by guessing the positions in the correct order, but supplementary points are also awarded if the driver you chose finishes in the top three.
(see scoring for more details)
There are also bonus predictions for you to pick to gain extra points. You may either participate in the Quinella or Trifecta bonus but not both.
The league's score is the average of its members' score per F1 race. A league will get bonus points for having more members in it. Players also receive team bonus for joining a league.
F1 Tipping scoring is divided into two categories - player and league points. Results are based on the Official Formula1 website at the time of calculation. Source of the results may change at anytime with or without notice. Further post-race amendments to results are not considered. Qualifying results are taken from the final qualifying session and before any grid demotion (or promotion) as a result of a penalty or for any other reason. A finisher defined is a driver that receives a position/classification and one that is not RET (retired or equivalent). F1 Tipping reserves the right to modify the results at anytime for any reason if deemed necessary.
Relevant Games