Space Project

Summary:
StarCraft from Blizzard is surely one of the greatest games in the game history. And the well designed 3 balanced races, Terren, Protoss, Zerg, have become templates of space games. Space Project is just one of these games.
Features:
Space Project is a space-based development strategy game with plenty of brand new gameplay features. Dive into a new world through time and space, play as one of three unique species and conquer the vastness of space. Chose your destiny as a martial Xen, a diplomatic Titan, or even a Terran. Each species has its own specific buildings and ships. Who will you decide to be?
Project Space is being launched for the first time ever as a public beta. Now is your opportunity to be one of the first to discover the new feel of gaming in your browser. Your opinion is important! With Project Space you can be actively involved in further improving the game. The beta will be re-launched in a few weeks time, and your visions may just be included. Be there!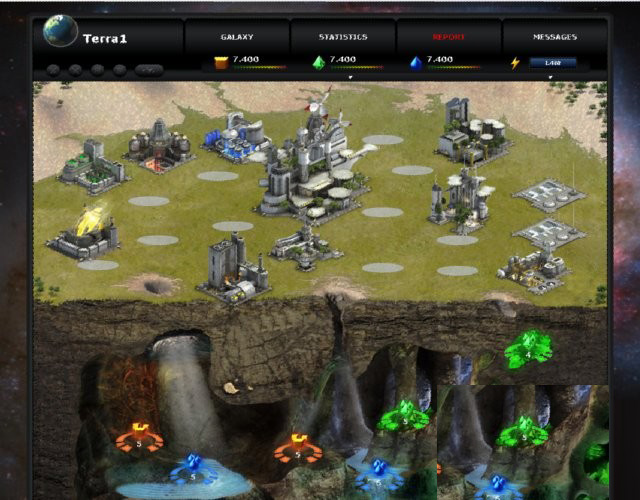 Species
Every species has its advantages and disadvantages. The Titans are rather defensive, while the Xen are among the more aggressive species. Whether you decide to play as the Terrans, Titans or Xen, is finally up to you.
Terrans:
can use their bioscanner to destroy hostile Zeks and Zekkons orbiting their own or
other planets
can use their planet's recycling yard to re-use debris that crashes on their planet after a
fight
Ships that starve are recycled, saving a large amount of resources
can use the colonization center to start colonizing space earlier than others
Titans:
10% cheaper mines
don't lose time when transporting resources
anonymous attacks with the Corsair spaceship
a shield generator to protect planets
larger resource cache
centralized energy supply to fleets through transmitters
great special buildings like the energy accumulator, the transportal and dimensional
modulator, and the jammer
Xen:
ships have large carrying capacities
can build several ships at a time, but need to build Zeks one after the other
The Brain allows the enemy to be kept under constant observation
Relevant Games