Dino-RPG

Motion Twin
19,529
Final
Buy ingame advantages
Realtime

Summary:
Dino-RPG is a browser based game. In this game you play a Master Tamer. You adopt one or many small wild creatures known as Dinoz. You can travel all over the Dinoland world, fight with other Dinoz, run missions, finish numerous quests, and even help your Dinoz to evolve.
 Features:
Gameplay
Adopt a Dinoz
The first thing you do in DinoRPG is adopt a Dinoz. Your new account starts with 20.00  (Gold Coins).
By clicking on Buy a Dinoz in the left Menu, you can access the Dinoz Shop. Each day this shop offers a unique selection of Dinoz from which you may choose your favourite.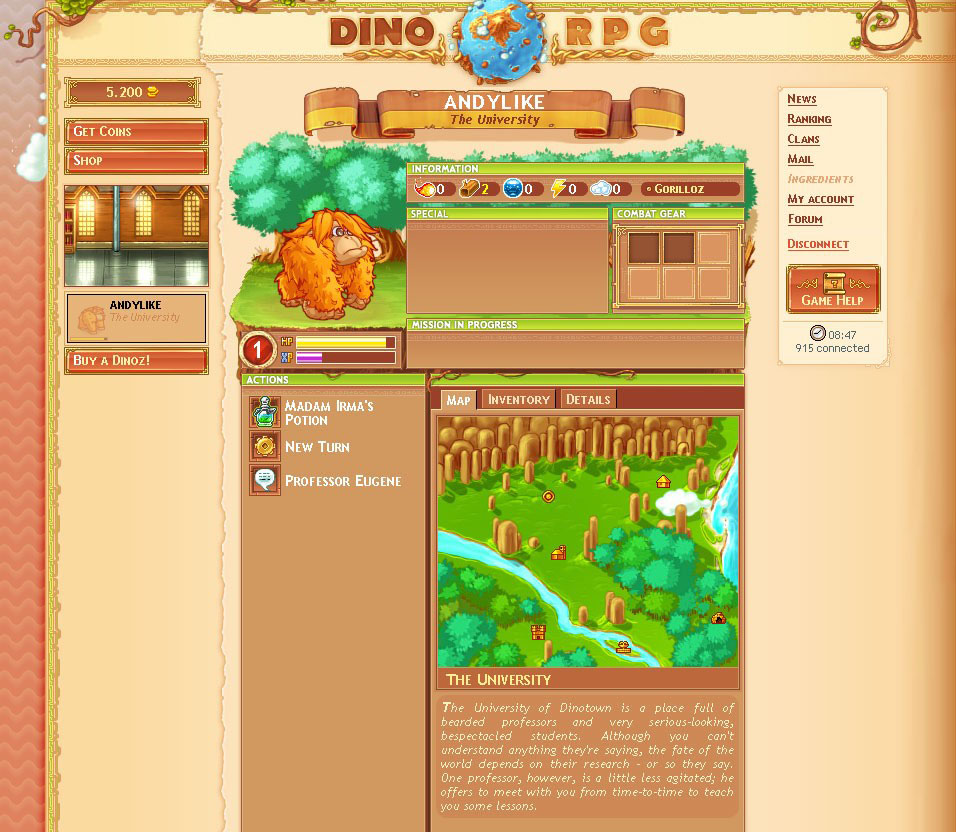 The Dinoz are presented as such:
You see a picture of the Dinoz, his Race and the price. The value of the 5 elements shown depends on the Dinoz race. And some races also possess an additional skill. These two points influence your Dinoz's ability to fight as we will see later. Certain races are rare and therefore are more expensive.
First, choose the Dinoz that you prefer and buy him. Then, you have to name it.
Fight
A fight happens when your Dinoz is attacked or attacks one or many monsters. The different protagonists proceed through the fight automatically:
The monsters and your Dinoz take turns attacking each other. The attacks are a function of their initiative and speed. With each successful attack, the opponent loses health points that are displayed (the number 6 in the picture above). Your Dinoz has to kill all of the monsters to win the fight.
When it is your Dinoz's turn, he can do one or many of the following actions:
start an assault, which means performing a normal attack
do a special attack, which replaces the assault
use an event skill
use a combat gear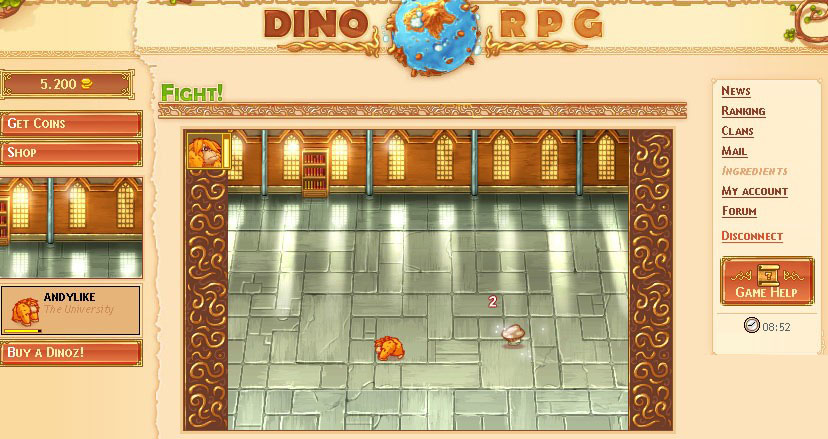 Mission
During your adventures in Dinoland, you will meet many characters. Some of these characters, like Grandpa Joe will give you access to a list of Missions.
Each Mission has a particular objective:
Your Dinoz can do only one mission at a time, so carefully choose the one that you want to do. Once the mission objective has been achieved, your Dinoz has to travel back to the character who gave the mission to get your reward.
Certain missions are locked at the beginning. To unlock them you will have to achieve other missions before, increase your Dinoz's level, or accomplish certain Quests given by other characters.
Once a mission has been completed by a Dinoz, it can be done again by another of your Dinoz.
Relevant Games