Battle of Gods

Summary:
Battle of Gods is a browser based game combines both RPG and strategy elements. This means that you do not have to download anything to play it. All that you need is to have flash player installed in your browser. The game features the following resources: gold, lumber, stone, wood and diamonds. Except the last one, all of these resources can be produced in the game.
Features:
Presented above is the Humans settlement. All settlements have the same functionality, the only difference is the graphic display of each settlement and the uniqueness of each race's units.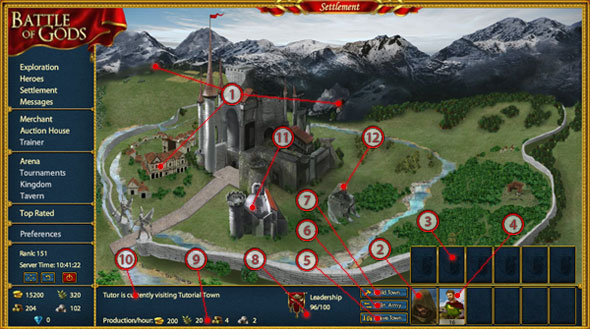 The Buildings screen
One of the most important aspects of the game is how you develop your settlement buildings. To access your building screen click on the "Build Town" icon from your settlement screen.
The Heroes screen
he Heroes screen is the place where you can see your heroes's attributes and stats, equip them with items, distribute level up points and train them new skills.
Exploring worlds, battling fearfull monsters and finishing challenging quests are a big part of Battle of Gods. Learning to explore the maps is a vital part of the game.
Relevant Games