Terminator Salvation FIG

Stillfront AB
37,955
Open Beta
Buy Ingame Advantages
Realtime

Summary:
when you sign up you choose if you want to join the Resistance or the Terminators. Before that, you should know what this world looks like. That will help you to survive in this cruel world and make yourself strong.
Features:
Below is the guide to the Terminator Salvation FIG's world for the fresh Resistance fighters. But, if you are a clean robot and wish to be a real terminator one day, you could also use this to guide you.
By the way, it's an official newbie help. You will find this at the official site too.
Mission Locations:
1. This is the mission map where you can select one of eight different mission locations.
2. Each location has between 2. and 8 different missions. You can't enter a mission location unless you have the required rank
Missions:
1. Here's a list of all missions you can select.
2. Each mission has a difficulty level and requires health and ammo to execute.
3. You can talk to other players in the mission location using the chat
Stats:
1. Here you can see your name, your avatar as well as your experience and rank.
2. This is your inbox, your Friends section and the Squad section.
3. This is your health bar. Each mission and each fight will require health. Health is automatically restored over time. You can also use food packs.
4. Your ammo is shown here. Each mission and fight requires ammo. Get ammo in the supply depots.
6. This shows your credits and your in-game cash.
5. These three determine how difficult missions you can take on. Gain these by playing other missions.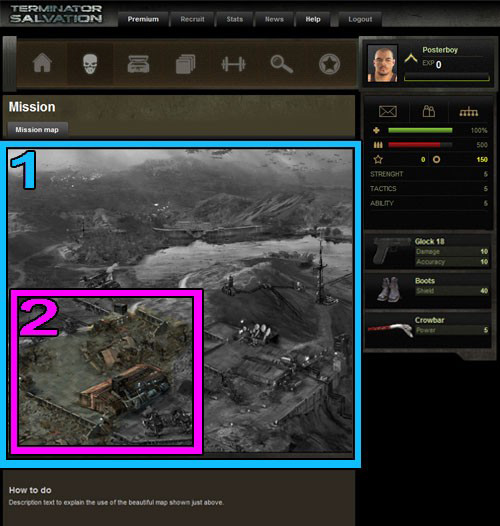 Supply depots/equipment etc:
1. Here are the supply depots where you can buy ammo and health kits. You need to pay an entrance fee as well.
2. At the Inventory Replenishment Source you can purchase ammo for your own supply depot. This ammo can only be used to fill up your depots.
3. This is where you buy weapons, armor and equipment.