Metaplace

Metaplace, Inc.
20,847
Open Beta
Optional premium accounts
Realtime

Summary:
Metaplace is a next-generation virtual world platform where worlds grow! You can build your very own world using our easy tools. You can buy things from our Marketplace, import from the web, or use your own creations. The sky is the limit! In addition, you can customize your profile to tell the community a bit about yourself. Easy, right? Well, it's a bit more than that.
Features:
Gameplay
Kick start your creativity!
Build your own Starter World and customize it however you would like using easy-to-use tools. Choose from a modern styled or fantasy theme, with many more Starter Kits coming soon. Create your avatar, name your world, and then begin by creating, importing, and rearranging art!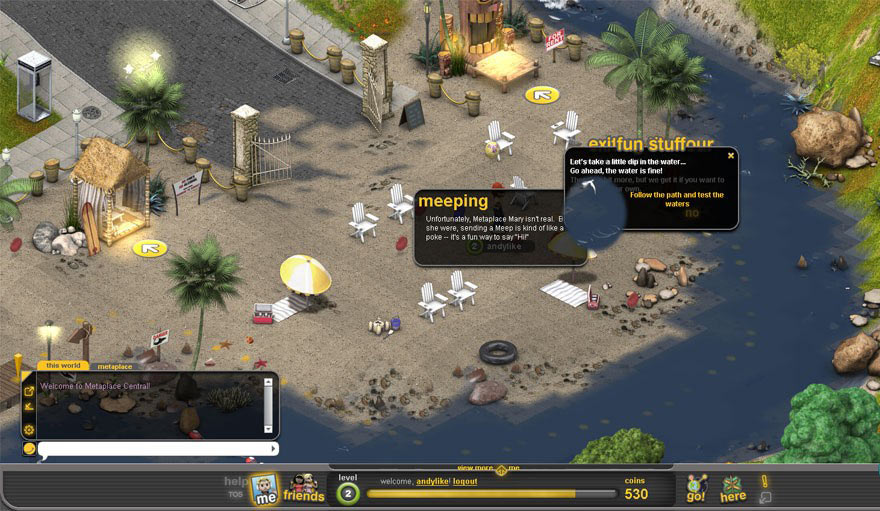 Feeling lonely?
Link your world with your friends' to create a neighborhood, and walk freely from world to world. You can even become co-builders and work together with your friends on a single world!
Be unique
Transform your creation into a custom fantasy, sci-fi, or goth world by browsing our Marketplace for something you like. We have many pieces of art available on our marketplace created by our Metaplace staff and members of the Metaplace community - like you!
Do you fancy an Amazon store or an RPG?
Using our plugin system, add elements of gameplay or web integration to your world. If you want a mission system, add one right into your world in seconds! There is a vast resource of creativity in the Metaplace community ready to be unleashed.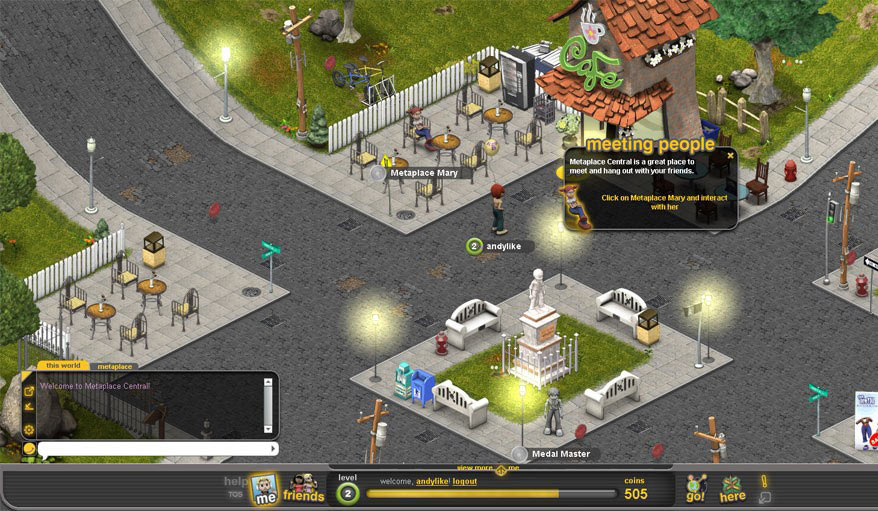 Proud of your world?
Embed your creation anywhere on the web to share it with friends and family! Paste the HTML code right into your MySpace or blog or email a link to everyone you know. It's okay to be a show off!
Join the Metaplace community!
Earn badges, customize your profile and meet new friends to chat and build with. You can send messages to other users, add friends and favorites, and comment on profiles and world pages. We make socializing easy and fun.
Push the boundaries
Expand the power of the platform by creating new plugins or objects by participating in our developer community. We are built on open standards! Artist, scripter, or modder? We provide extensive documentation through our wiki and developer program to help users extend Metaplace using whatever skills they have.
Relevant Games