Lords of Evil

Summary:
Lords of Evil is a free strategy browser game with a theme of magic and warlike, featuring unqiue guild and battle system . Players can may found or join a guild. Different guilds may vie with each other for resources of mineral products - the winner will obtain abundant treasures and build his empire.
The game does not require high end or expensive hardware, better yet it does not even require tedious download which occupies your hard drive spaces. All you need are just a fair computer and Internet access. You are invited to take this astounding journey to strategically build your own territory. Within this game, you could be whoever you want to be and pass on the legend of your own.
Features:
Three Races:

Human, Orc, Demon; Be holy or be evil!
Auto leveling-up, playing

while you working, studying and sleeping
Guild:

Lords of Evil has a very strong guild system that allow players to team up and battle with players from other guild. You better make sure that the person you are going to attack does not belong to a strong guild, otherwise his/her friends are very likely to hunt you down.
Stronghold Battle:

Guild members are entitled to certain resource bonuses when their guilds occupied a stronghold. That is why guilds are often battle against each other to gain control over strongholds. This is another unique way that provides gamers with great social interactions within Lords of Evil.
Sophisticated Development Trees:

The game has buildings, skills, units, and defense developments that you can master. Depending on your play style, you will have to mater different development over time.
Events & Competitions:

Ray Flame Entertainment continuously hosts events and competition for players to participate and interact with each other. This is something that not many web game developers or publishers are currently doing. Within Lords of Evil, you will always be able to see events and competitions that you would love to participate.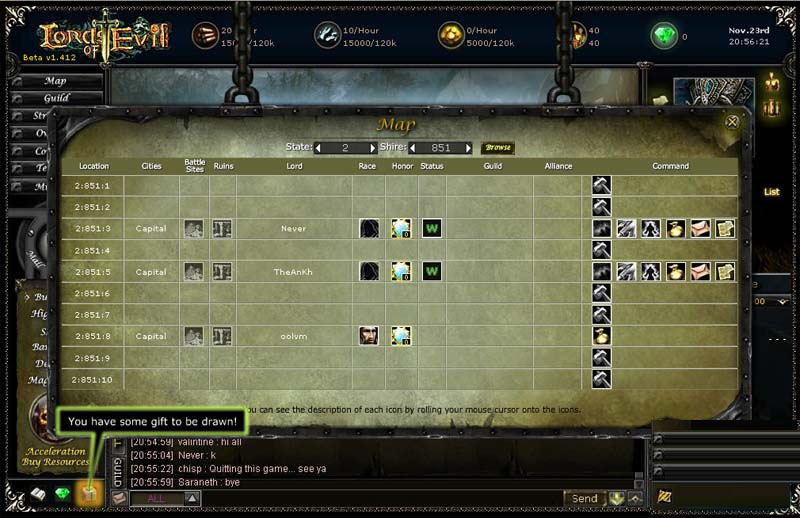 Relevant Games